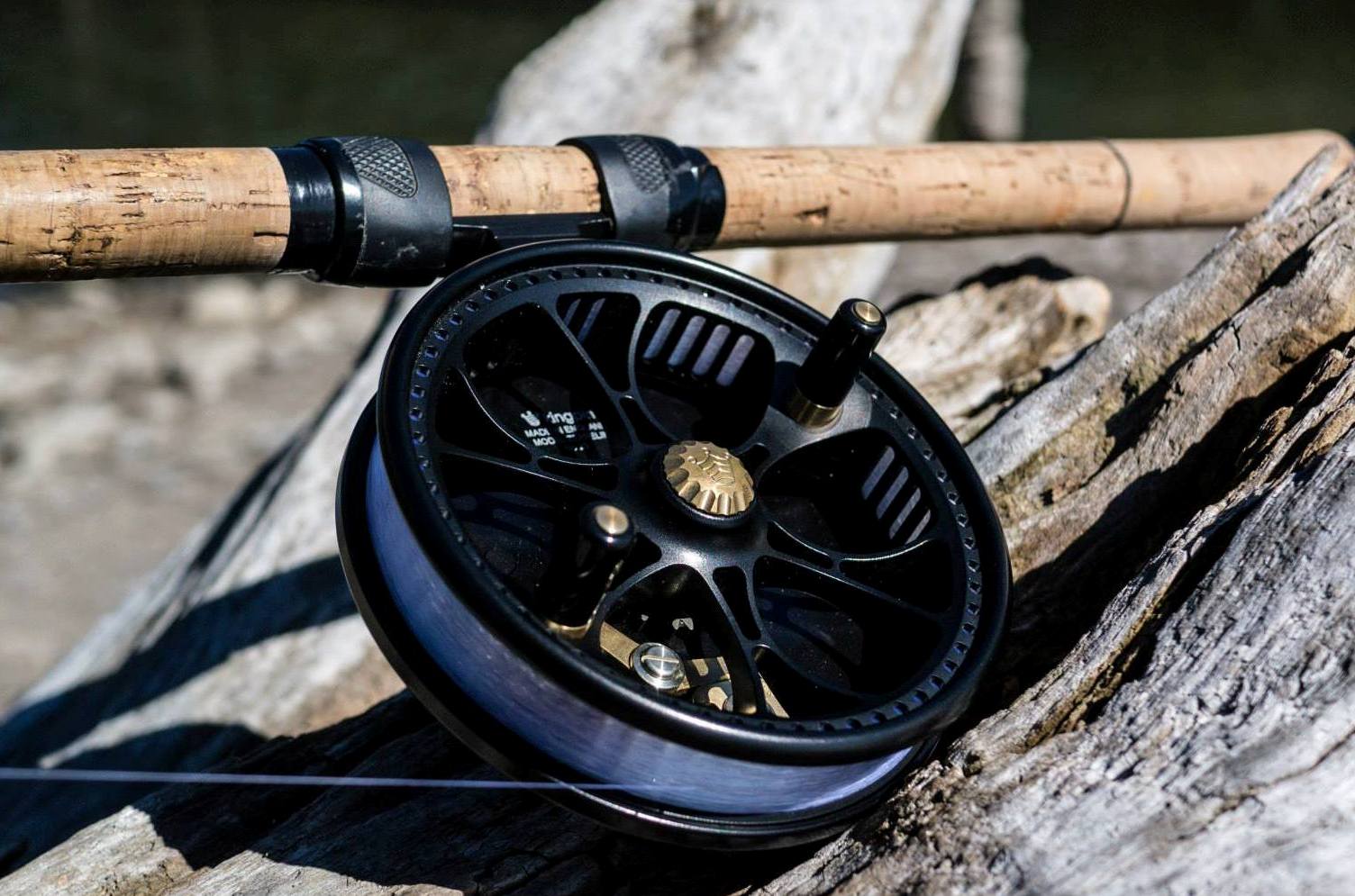 The Zeppelin pushes the boundaries in what can be achieved in precision engineering. This 3D reel is only possible with state of the art CAD/CAM design software and multi axis machining centers. The spool is perfectly balanced in all planes and due to the unique design it feels strong, balanced and smooth.
The Zeppelin is offered in 4 stocked and 4 colors on demand (see below) If you are looking for full customization we also offer this service.
Diameter: 4 3/4" / 120mm
Spool Width: 3/4" / 19mm
Spool Weight: 5.4oz / 156g
Weight: 10oz / 286g
Bearings: German Marine Grade ABEC7
Made: England
HAND RELEASE SPOOL CAP
No clumsy tools or awkward coins to get your kingpin spool off. This ergonomic finger release screw works and looks just the job
This cap is a prime example of how we like to make something better as opposed to less expensive, a coin release screw is half the cost!
AMBIDEXTROUS CHECK SWITCH
Easy to operate and with out doubt the strongest check system on any reel for peace of mind when rigging or walking the river. We say 'no' to *weak clickers
*If you are using your clicker to fight fish, don't. Use your hands!
ADVANCED MACHINING
Pay attention to how the spokes of the spool concave in the middle. This is the same on every plane giving the reel a completely bridged design which makes it 5x stronger than anything else available
Check the slot-less handle axles out that hold the hand polished handles in place. These are made in house along with everything else on the reel. You will notice that a lot of the reels on the market use 'of the shelf' general purpose screws, including the 'hand made' reels!
The slots we mill into the inside of the drum where the lines lays really emphasis's the precision milling. Making them only 3mm in width is much harder and more time consuming. Most reels have no slots but the ones that do are not like this!
DETAILS
Take a closer look at the rim on the spool, perfect for those feisty fish - no hot spots. This is a combination of clever machining and hand polishing to shape it into what it is. There is a lot of work that goes into these reels both by man and machine.
COATING
All are backplates are Defense Standard hard anodized. Reels are always laid on their back so it makes sense to make them scratch resistant, tougher than steel. Its twice the cost but five times the better. We are the only manufacturer of centrepins that applies this process as standard.
COLOURS READY TO GO
Sent within 48 hours. Stock is held in Europe and North America so free domestic tracked shipping applies. No need to worry about import duties either.
COLOURS ON DEMAND
Sent within 14 days (sometimes stocked). Reels will be sent via our North American distributor so same shipping details as above
To order a super custom reel please fill in your details below